Forsyth, John (1780-1841) to William S. Holabird
High-resolution images are available to schools and libraries via subscription to American History, 1493-1943. Check to see if your school or library already has a subscription. Or click here for more information. You may also order a pdf of the image from us here.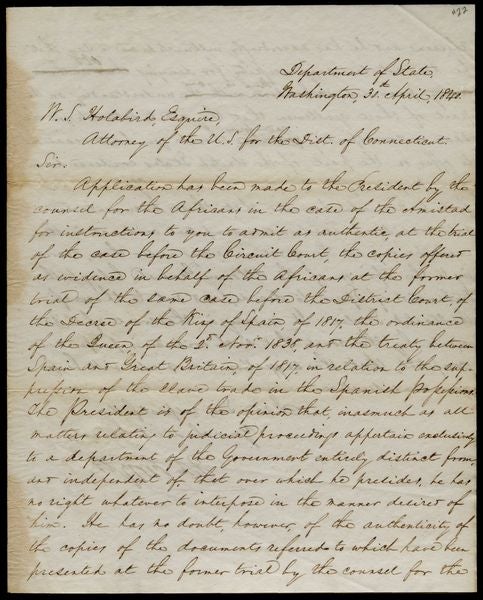 A high-resolution version of this object is available for registered users. LOG IN
Gilder Lehrman Collection #: GLC05636.22 Author/Creator: Forsyth, John (1780-1841) Place Written: Washington, D.C. Type: Letter signed Date: 30 April 1840 Pagination: 2 p. ; 25 x 20 cm.
Summary of Content: Relates that the Africans' defense team requested President Martin Van Buren to instruct Holabird to present copies of the 1817 Decree of the King of Spain, the 1838 ordinance of the Queen of Spain, and the 1817 Treaty between Spain and Great Britain in the Circuit Court hearing of the Amistad case. These documents, which had previously been used when the Amistad trial was held at the District Court level, pertain to the slave trade in Spanish territories. Van Buren does not question the authenticity of the documents, but does not feel he has the right "to interpose in the manner desired of him" (possibly in the judiciary branch of government). States that Van Buren sees no reason for denying use of the documents at trial, provided the defense team allows for the admission of similar documents on the request of the prosecution. Writes "You will not fail to remember, however, that those documents are not considered as relevant or competent evidence in the cases pending, as the questions arising under them, according to the opinion of the Attorney General, belong to the tribunals of Spain to decide, and not to those of the United States."
Background Information: Forsyth was Secretary of State 1834-1841. Holabird was District Attorney for the State of Connecticut during the Amistad trial. Roger Baldwin, Theodore Sedgwick, and Seth Staples composed the Amistad Africans' ...defense team. John Quincy Adams assisted Baldwin when the case reached Supreme Court. Henry Gilpin served as United States Attorney General 1840-1841. See More
People: Forsyth, John, 1780-1841
Holabird, William S., 1794-1855
Gilpin, Henry Dilworth, 1801-1860
Van Buren, Martin, 1782-1862

Historical Era: National Expansion and Reform, 1815-1860
Subjects: AmistadAfrican American HistorySlaverySlave TradeSlave RebellionAfricaMutinyMaritimeLawPresidentGlobal History and CivicsForeign AffairsPrisonerJudiciaryTreaty
Sub Era: