Wheeler, Lysander (fl. 1837-1903) to his parents, brother-in-law, and sister
High-resolution images are available to schools and libraries via subscription to American History, 1493-1943. Check to see if your school or library already has a subscription. Or click here for more information. You may also order a pdf of the image from us here.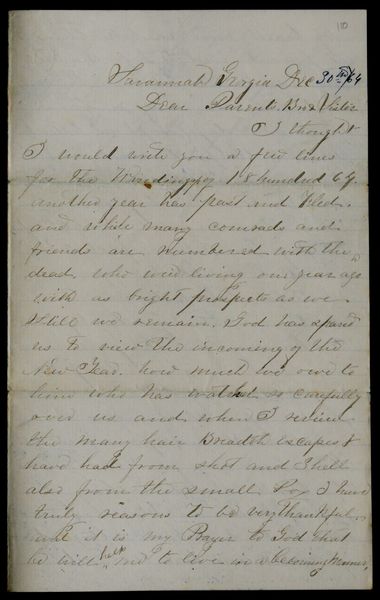 A high-resolution version of this object is available for registered users. LOG IN
Gilder Lehrman Collection #: GLC07460.110 Author/Creator: Wheeler, Lysander (fl. 1837-1903) Place Written: Savannah, Georgia Type: Autograph letter signed Date: 30 December 1864 - 4 January 1865 Pagination: 14 p. : envelope ; 20 x 24.8 cm.
Summary of Content: Writes about those who have died during the past year and the sacrifice they made for their country. General William T. Sherman reviewed the 20th Corps. today. General Ulysses Grant was supposed to review the men as well but he failed to show up. A rebel blockage runner arrived in Savannah, Georgia not knowing the town was now occupied by the Union Army. The number of guns taken from Savannah is around 207, which is quite large, assuming the number is correct. He likes Savannah but thinks that many of the buildings looked "weather aged." He has a "Britannia" tea pot in his tent that was made in 1756. States that many of the inhabitants have fine silverware and rich furniture but are lacking in tools. Describes the area around Savannah as very swampy and Savannah itself as a "sand knoll." Notes the large amounts of cotton left behind. Writes that many of the slaves followed their train around which showed "how much they want to be in slavery." Many of the regiment were looting houses and taking items that did not belong to them. Reassures his family that he took no part in this. Reports that some of the items the troops stole were sent home to their families. He provides a short journal entry for each day of the Union Army's march to Savannah. Since he last wrote he has escorted a wagon train through a muddy road. Destroyed a jail that was used to hold Union prisoners. All the while the Confederates flooded land or destroyed bridges to slow the Union advance. The Union continued to drive the rebels back to Savannah. Writes from South Carolina that they have left their camp in Savannah and have marched into South Carolina. As they were preparing to cross the river the Confederates and Union soldiers fired on one another. Union General Ward ordered cannons to fire on the rebel positions forcing them to withdraw. Writes that the men building the pontoon bridges came back from the river and were very cold from the weather. Thinks that they will be headed towards Hardeeville, South Carolina. He is still unsure of what General William T. Sherman's plan is. The pontoons are still not finished yet. Writes that they spent the night at a very good campground in an old fort. The weather is not as cold as it was the previous day.
Background Information: Lysander Wheeler, a farmer from Sycamore, Illinois, enlisted in the Union Army on August 7, 1862 as a private. He was mustered into Company C of the 105th Illinois infantry and later ...promoted to sergeant. Wheeler was mustered out on June 7, 1865.See More
People:
Historical Era: Civil War and Reconstruction, 1861-1877
Subjects: Civil WarMilitary HistoryUnion Soldier's LetterUnion ForcesSoldier's LetterDeathUnion GeneralSherman's March to the SeaBlockadeNavyMaritimeArtilleryHome FurnishingsCottonWartime Pillaging and DestructionPrisoner of WarConfederate States of AmericaInfrastructureFortificationMilitary Camp
Sub Era: The American Civil War