Former slave, Doctor Cuffee Saunders, 1781
Posted by Sandra Trenholm on Friday, 02/22/2013
Sometimes a simple document can open the door to a great story. Cuffee Saunders was a Black soldier during the Revolutionary War. The paperwork here is for "Cuffee Wells," Wells being the name of Cuffee's former slaveowner. When Cuffee entered the Army he was still known as Cuffee Wells, and during the war he took the last name of Saunders. 
In this statement dated 1781, Richard Lamb and John Nutter verify that Cuffee Saunders enlisted in the Continental Army in May 1777 and earned a bounty of 30 pounds, part of which was used to purchase his freedom. Likewise, Justice of the Peace Benjamin Huntington confirmed that Saunders's commanding officer, Captain Jedediah Hyde of Norwich, "always understood that the money that was given to Saunders at his Enlistment Purchased his Freedom." It is not clear why this document was created. It may have been necessary for the processing of some civil or military paperwork, or perhaps it hints at a controversy involving Wells. Information regarding Black soldiers in the Revolutionary War is usually difficult to track down. With the help of researcher Ellen Pawelczack, we were able to reconstruct some of the background in this case.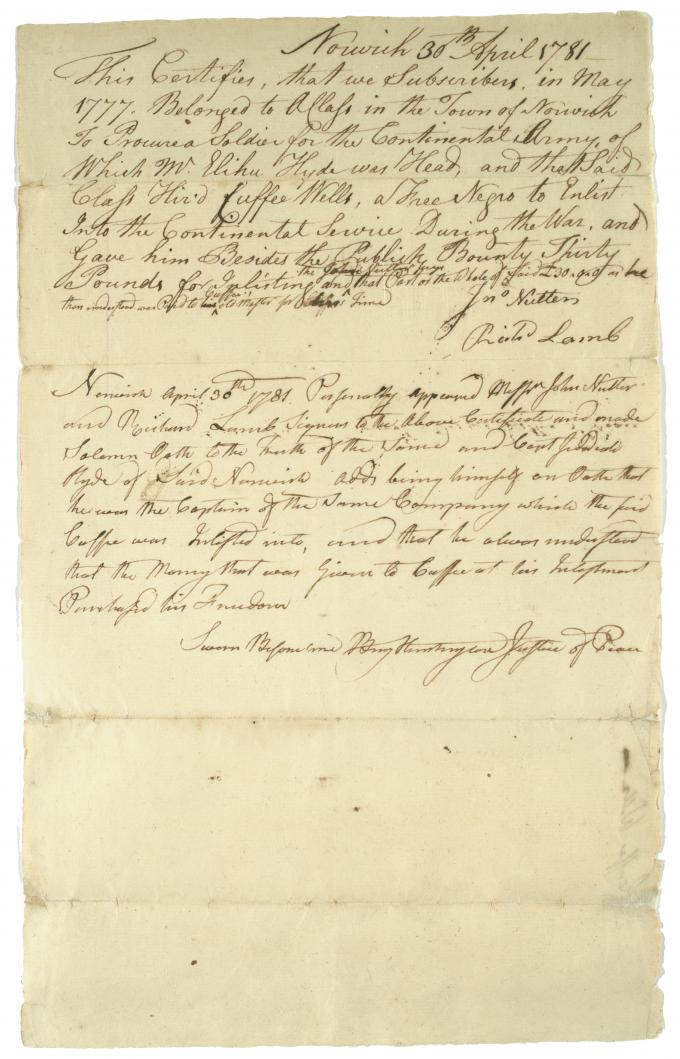 Cuffee Saunders's story is an extraordinary example of an individual rising from slavery to a position of responsibility and social respect through skill, initiative, and sheer force of will. He was born in Guiana and was brought to Connecticut and enslaved as a child. He served at least two slaveholders: a Hartford-area doctor and apothecary, Deacon Israel Wells of Colchester. In 1777, Saunders enlisted in the Continental Army and served as a private in the 4th Connecticut Regiment. In the Revolutionary War pension files for Cuffee Wells is a November 3, 1837, affidavit by his widow, Phillis, that Saunders "was a Slave of Israel Wells of So. Colchester, and that in order to obtain his freedom enlisted into the Army of the United States in the Winter of 1777 as a Private Soldier, for the term of during the war." 
Saunders's "considerable medical skill," gained from his first master, was quickly noticed by his military superiors. He was assigned duty as a "waiter," or assistant, to Dr. Philip Turner, surgeon general of the hospital of the Northern Division of the Army. In this capacity, he helped with medical procedures at the hospital in Danbury and prepared pharmaceuticals at the apothecary store, earning the title of "Doctor Cuffee." In the spring of 1778, Saunders was temporarily transferred to Valley Forge and is listed on the muster rolls at the encampment as "tending the sick" from June through September of 1778. He then returned to his position in Danbury, where he served through the end of the war.
At the end of the war, Saunders married and bought three acres of land in Lebanon, Connecticut, with his soldier's pay. A July 20, 1839, obituary in the Colored American for Cuffee's son Prince Saunders notes that the father had been employed by Dr. Turner "as an attendant in the hospital, where he required considerable skill, and used to practice physics after the war until he died." Saunders died of influenza in December 1788. In the late 1830s, almost half a century after Saunders's death, his widow took advantage of a new law to apply for his Revolutionary War pension. The application dragged on for years due to record mismanagement and prompted numerous attestations sent in by prominent Norwich residents of Saunders's history, his notable service, and the repute in which he and his wife were held, which eventually swayed officials. Phillis Saunders was finally granted her husband's wartime pension in 1843. Saunders's son, Prince Saunders, attended Dartmouth College, became a prominent exponent of colonization, and served as Haiti's attorney general.
Selected References:
Alexander, Leslie (editor). Encyclopedia of African American History (ABC-CLIO, 2010)
Compiled Service Records of Soldiers Who Served in the American Army during the Revolutionary War, 1775–1783, National Archives and Records Administration, Publication M881, Record Group 93.
Revolutionary War Pension and Bounty-Land Warrant Application Files, National Archives and Records Administration, Publication M804, Record Group 15.
Horton, James O. In Hope of Liberty: Culture, Community and Protest among Northern Free Blacks, 1700–1860 (Oxford University Press, 1996)
Greene, Robert Ewell. Black Defenders of America, 1775–1973 (Johnson Pub. Co., 1976)
Obituary notices regarding Prince Saunders, The Colored American, June 8, 1839, and July 20, 1839.
The Valley Forge Muster Roll, http://valleyforgemusterroll.org/