United States. Congress (27th, 3d session : 1842) Schooner Amistad: message from the President of the United States, transmitting sundry...
High-resolution images are available to schools and libraries via subscription to American History, 1493-1943. Check to see if your school or library already has a subscription. Or click here for more information. You may also order a pdf of the image from us here.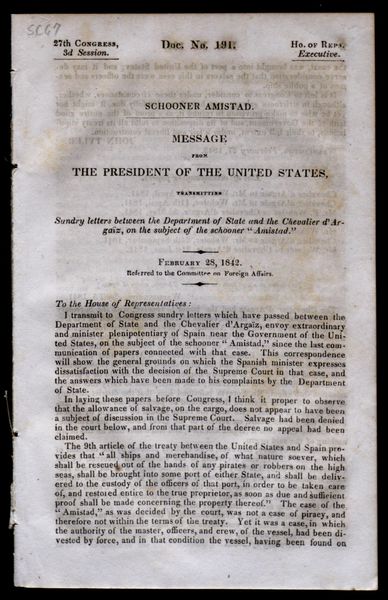 A high-resolution version of this object is available for registered users. LOG IN
Gilder Lehrman Collection #: GLC00267.067.01 Author/Creator: United States. Congress (27th, 3d session : 1842) Place Written: Washington, D.C. Type: Pamphlet Date: 28 February 1842 Pagination: 1 v. : 15 p. ; 22.6 x 14.3 cm.
Summary of Content: (title continues)... letters between the Department of State and Chevalier d'Argaiz on the subject of the schooner 'Amistad.' Contains messages from President John Tyler, Secretary of State Daniel Webster, and Chevalier d'Argaiz, envoy extraordinary and minister plenipotentiary of Spain. Number 191.
People: Tyler, John, 1790-1862
Webster, Daniel, 1782-1852

Historical Era: National Expansion and Reform, 1815-1860
Subjects: AfricaAfrican American HistorySlaveryGovernment and CivicsLawGlobal History and US Foreign PolicyGlobal History and US Foreign PolicyMaritimeRebellionAmistadPresidentCongress
Sub Era: