Fullam, Phinehas (fl. 1775) [Attesting to Battle of Concord]
High-resolution images are available to schools and libraries via subscription to American History, 1493-1943. Check to see if your school or library already has a subscription. Or click here for more information. You may also order a pdf of the image from us here.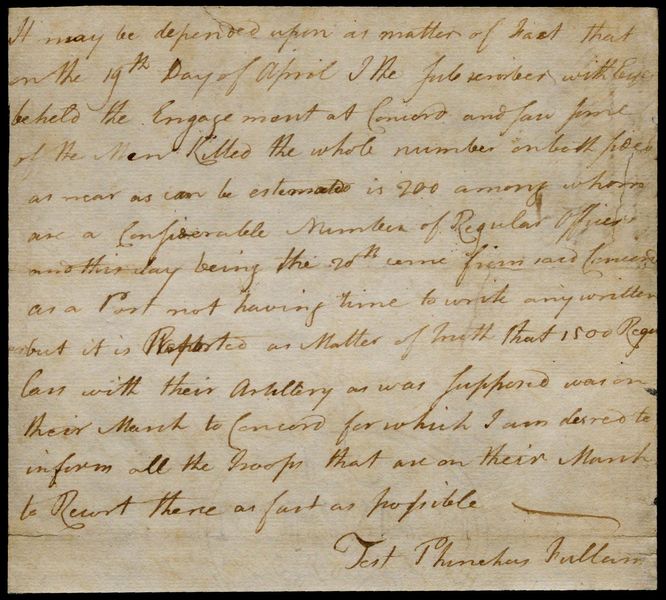 A high-resolution version of this object is available for registered users. LOG IN
Gilder Lehrman Collection #: GLC00869 Author/Creator: Fullam, Phinehas (fl. 1775) Place Written: s.l. Type: Autograph document signed Date: 20 April 1775 Pagination: 1 p. ; 16.6 x 18.4 cm.
Summary of Content: Fullam apparently was a postrider for a Committee of Safety, who, like Paul Revere, was employed to spread the news of Lexington and Concord and bring reinforcements. Says he saw the Battle of Concord with his own eyes and that he confirms about 200 died on both sides. Says 1500 regulars with artillery are on the march and that he is "to inform all the Troops that are on their March to Resort there as fast as possible." Later Fullam served in the Massachusetts militia.
Full Transcript: It may be depended upon as matter of Fact that on the 19th Day of April I the subscriber with Eyes beheld the Engagement at Concord and saw some of ...the Men Killed the whole number on both sides as near as can be estimated is 200 among whom are a Considerable Number of Regular Officers and this day being the 20th came from said Concord as a Post not having time to write any written but it is Reported as Matter of Truth that 1500 Regulars with their Artillery as was supposed was in their March to Concord for which I am des[i]red to inform all the Troops that are on their March to Resort there as fast as possible -
Test Phinehas Fullam
[docket]
Phinehas Fullam's Acct. of the Engagement at Concord, April 19, 1775.
See More
People: Fullam, Phinehas T., fl. 1775

Historical Era: American Revolution, 1763-1783
Subjects: Revolutionary WarLexington and ConcordMilitary HistoryGlobal History and US Foreign PolicyGlobal History and US Foreign PolicyDeathBattleArtilleryMilitiaGovernment and Civics
Sub Era: The War for Independence