Knox, Henry (1750-1806) to Lucy Knox
High-resolution images are available to schools and libraries via subscription to American History, 1493-1943. Check to see if your school or library already has a subscription. Or click here for more information. You may also order a pdf of the image from us here.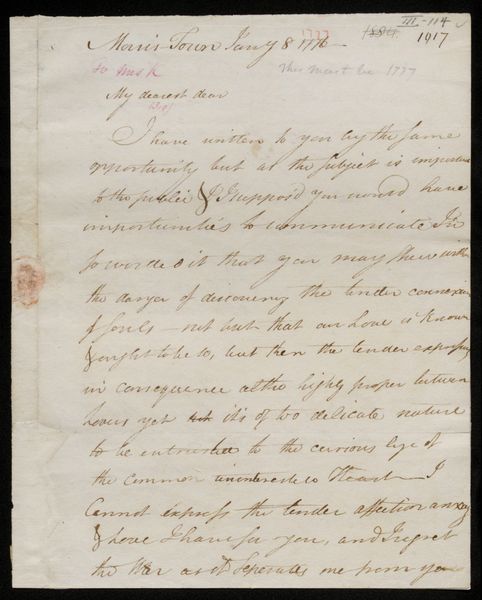 A high-resolution version of this object is available for registered users. LOG IN
Gilder Lehrman Collection #: GLC02437.00516 Author/Creator: Knox, Henry (1750-1806) Place Written: Morristown, New Jersey Type: Autograph letter signed Date: 8 January 1777 Pagination: 3 p. : address : docket ; 23 x 18.2 cm.
States that his other recent letter, probably GLC02437.00514, is not full of sentiment because its contents is of public importance and she might wish to show the letter to others. Says that, while there love is public, the full expressions of it need not be put in a letter that may be seen by strangers. Here he expressed the love for her that he did not in the previous letter. Hopes to be with her soon, and hopes for more letters. In a postscript advises her to sell the horses if she is in Boston, and in a note on the address leaf asks her to forward a letter for him. Dated 1776, but written 1777.
[draft]
Morris-Town Jany 8 1776 -
My dearest dear
I have written to you by the same opportunity but as the subject is important to the public & I suppos'd you would have importunities to communicate I've forwarded it that you may shew within the danger of discovering the tender connexion of souls - not but that our Love is known & ought to be so, but then the tender expression in consequence altho highly proper between Lovers yet [struck: not] it's of too delicate nature to be entrusted to the curious eye of the common uninterested Heart - I Cannot express the tender affection [anxiy] & Love I have for you, and I regret the War as it seperates me from you [2] whom I so tenderly love - God will soon send you I hope your husband to live in pease & plenty with you - I am very anxious to hear from you it is a long time since Ive had that pleasure - you may shew that Other Letter to Billy Harry Jackson &c - in haste I most earnestly & sincerely pray God to take you in his keeping
I am Your most
Affectionate Husband
HKnox
had you not better if you are at
Boston to sell your Horses this Winter
as the keeping must be very dear
HKnox
Mrs Knox
[address leaf]
Mrs Knox
Boston
[address leaf verso]
I beg of you my Lucy if you
are at New Haven still to
forward the Letter of intelligence
to Boston - to Billey or Harry
by Capt Bliss
H Knox
[docket]
Gen K. to Wife
/76