Knox, Henry (1750-1806) to William Knox
High-resolution images are available to schools and libraries via subscription to American History, 1493-1943. Check to see if your school or library already has a subscription. Or click here for more information. You may also order a pdf of the image from us here.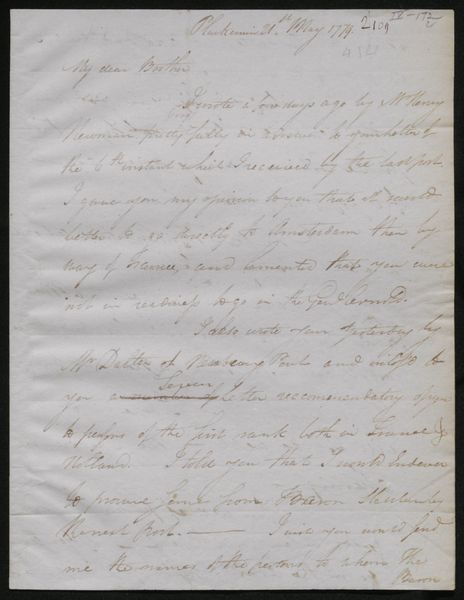 A high-resolution version of this object is available for registered users. LOG IN
Gilder Lehrman Collection #: GLC02437.00763 Author/Creator: Knox, Henry (1750-1806) Place Written: Pluckemin, New Jersey Type: Autograph letter signed Date: 21 May 1779 Pagination: 3 p. : docket ; 24.4 x 18.6 cm.
Recaps a letter he recently sent to William, in which he urged William to sail directly to Amsterdam instead of stopping in France. Mentions letters of introduction he previously sent for William's voyage to Europe, noting he will also ask the Baron von Steuben for introductory letters. Requests William to send a list of the persons to whom Baron Johann De Kalb's letters of introduction were addressed. Relates that the Winslow sisters will travel to Boston within a fortnight. Comments on the recovery of Lucy, his wife, from a recent illness. Instructs William to ship his goods by armed vessel, writing "you must be industrious & not tarry to long in Europe & remember 'There is a tide in the affairs of men which taken at the flood lead into Fortune omitted &c" (quote from Julius Caesar, by Shakespeare). Promises to send letters of introduction from Marquis de Lafayette and John Adams by the next post.
[draft]
Pluckemin 21st May 1779.
My dear Brother
I wrote a few days ago by Mr Henry Newman pretty fully in answer to your Letter of the 6th instant which I received by the last post. I gave you my opinion to you that it would [be] better to go directly to Amsterdam than by way of France, and lamented that you were not in readiness to go in the Genl Arnold.
I also wrote you yesterday by Mr Dalton of Newberry Port and inclos'd to you seven Letter[s] recommendatory of you to persons of the first rank both in France & Holland. I told you that I would Endever to procure some from Baron Steuben by the next post. - I wish you would send me the names of the persons to whom The Baron [2] de Kalbs Letters are addressed that I may make a minute of them. -
When you ship your goods from Europe you will certainly Insure the prime Cost - according to yoru account the profits will afford it well -
The Miss Winslows will [illegible] in about a fortnight or less -
I wrote you yesterday Mrs Knox was on the recovery - She had a better night last night than she has had since she has been sick - I hope in god she will yet do well - The Children are charmingly -
You will if possible ship your goods in an arm'd Vessell - if you cannot go in the Arnold - possibly you might return [3] in her - You must be industrious & not tarry so long in Europe - remember "There is a tide in the affairs of men which taken on the flood lead into Fortune omitted &c"
By the next post I will send you Letters to Mr Jno Adams and the Marquis de La Fayette -
For the present Adieu
HKnox
pray dont forget the tea.
Mr William Knox
[docket #1]
From Brigr Genl Knox
Pluckemin 21 May 79
[docket #2]
Gen Knox to
His bro. Wm.
from
Pluckemin 21 May
/79