Knox, William (1756-1795) to Henry Knox
High-resolution images are available to schools and libraries via subscription to American History, 1493-1943. Check to see if your school or library already has a subscription. Or click here for more information. You may also order a pdf of the image from us here.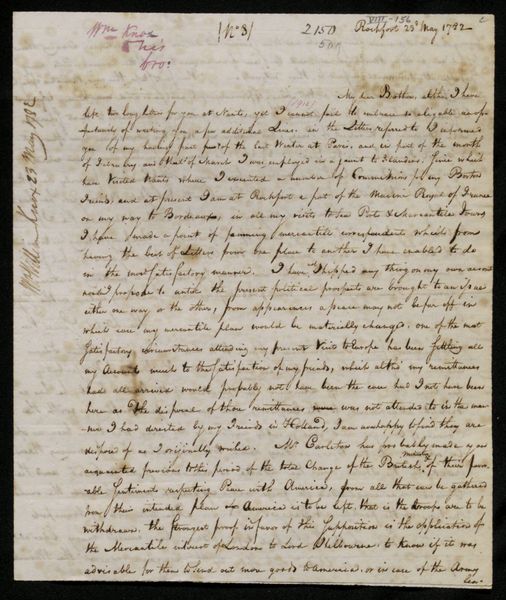 A high-resolution version of this object is available for registered users. LOG IN
Gilder Lehrman Collection #: GLC02437.01429 Author/Creator: Knox, William (1756-1795) Place Written: Rochefort, France Type: Autograph letter signed Date: 23 May 1782 Pagination: 4 p. : docket ; 22.3 x 18.7 cm.
Summary of Content: Written by William Knox to his brother Major General Knox. Mentions his travels to Flanders, Nantes (where he did some business for his Boston friends), and has stopped in Rochefort on his way to Bourdeaux. Wants to ship many things to America, but says he will hold back until after the peace is decided. Mentions changes in British govenrment and how they will assist in the peace process. Says the merchants are in favor of British troops withdrawing from America. Lord Shelbourne told them not to ship more goods to America in case of an evacuation. Says the British tried to get John Adams and Benjmain Franklin to pursue a peace separately from the French and Spanish, which they both declined to do. Makes reference to changes in the Dutch government, Says there has been a political backlash in France for the loss of transports and two ships of the line that recently left Brest. Says everyone wants to know about the situation between British Admiral George Brydges Rodney and Comte de Grasse in the Caribbean (de Grasse lost two engagements, one on 9 April and one on 12 April). There is fear his shrunken force was outnumbered and defeated in a third engagement. Says a second fleet was supposed to have sailed from Cadiz after linking up with some Spanish ships, but that the delays have led to much anger. Tells Henry of information he received from an Irish informant that there are rumors that the Irish are making greater political demands and that the British Ministry wants peace with the Americans to have troops available to deal with this growing crisis.
People: Knox, Henry, 1750-1806
Knox, William, 1756-1795
Adams, John, 1735-1826
Franklin, Benjamin, 1706-1790

Historical Era: American Revolution, 1763-1783
Subjects: NavyFranceRevolutionary WarRevolutionary War GeneralMilitary HistoryTravelGlobal History and US Foreign PolicyGlobal History and US Foreign PolicyCommerceMerchants and TradeTreatyDiplomacyGovernment and CivicsPresidentMaritimePoliticsCaribbeanRebellion
Sub Era: The War for Independence