Jackson, Henry (1747-1809) to Henry Knox
High-resolution images are available to schools and libraries via subscription to American History, 1493-1943. Check to see if your school or library already has a subscription. Or click here for more information. You may also order a pdf of the image from us here.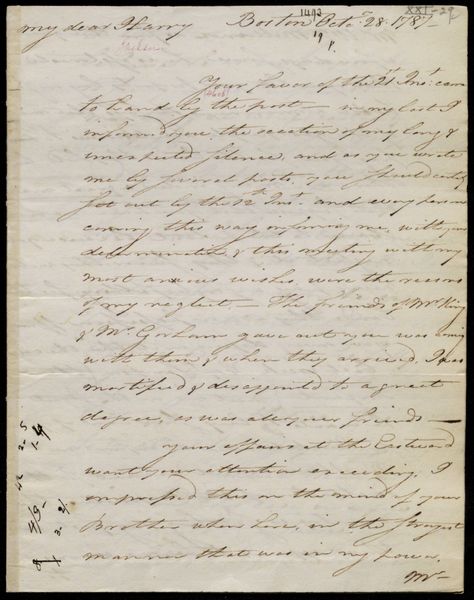 A high-resolution version of this object is available for registered users. LOG IN
Gilder Lehrman Collection #: GLC02437.03682 Author/Creator: Jackson, Henry (1747-1809) Place Written: Boston, Massachusetts Type: Autograph letter signed Date: 28 October 1787 Pagination: 8 p. : docket ; 25.7 x 20.1 cm.
Summary of Content: Informs Knox that his "affairs at the Eastward want your attention exceeding, I impressed this on the mind of your Brother when here, in the strongest manner that was in my power." Discusses the subdivision and selling off of Knox's lands, likely in Maine. Relates advice about Knox's land to maximize his profits. Mentions that General [Rufus] Putnam is planning to move to Ohio, and that he [Jackson] is sick of the city and thinking of moving out there himself. Relates business matters involving their mutual friend [Samuel] Breck. Lastly, discusses the fact that the Massachusetts legislature has voted to hold a convention to ratify the new United States Constitution. Adds that if it is approved, a military will be established; hopes Knox will think of him for a position in that new military.
Full Transcript: [draft]
Boston Octor. 28. 1787 -

My dear Harry
Your favor of the 21st Inst: came to hand by the post - in my last I informed you the occation of my ...long & unexpected silence, and as you wrote me by several posts, you should certainly set out by the 12th Inst. and every person coming this way informing me, with your determination, & this meeting with my most anxious wishes, were the reasons of my neglect, - The friends of Mr. King and Mr. Gorham gave out you was coming with them & when they arrived, I was mortified & disappointed to a great degree, as was all your friends -
Your affairs at the Eastward want your attention exceeding, I impressed this on the mind of your Brother when here, in the strongest manner that was in my power.
[2] Mr. Wm Mollenex is from that quarter a few days since, he is asstonished that you let your property lay in so loose a manner. - he says that many of the good people are desireous to pay you for the lands they hold, but there are many indeed a great many that suppose that you have no real claim to the patent because you neglect it, & they swear they will never pay a single farthing for the lands they are in possession off - you may depend on it this is the case - last week Capt. Sampson (the Infant) meet me in the street, he wants to buy some land of you for his children, - he inform'd me his Neighbours cannot account for the inattention of the Proprietors, the Country is settling very fast, and there appears to be no [owners?] to [3] [Delli[ ]ay] is here, I beleive he is come up on purpose to see you, as I informed him, last month, you would certainly be here in October - he says the [Fort?] farm and your Interest in that quarter is gone, or going to the devil quick time - I had a long conversation the other day with Leonard Jarvis & with great concern he expressd himself with respect to your eastern affairs. his opinion is fully with the one I gave you on the spot last year - that is - they ought to be attend too, by yourself, or some active influential Man on the spot, and in this case, in a few years they would be a source of great wealth & magnitude - or if [4] this cannot be effected, the sooner you dispose of them the better, even if you are obliged to give them away as they are a dam'd [mouth?] to you in there present situation, besides that - you make a calculation on them, which will fail you unless they are attend too without loss of time - as to the W....... they are children - & will be an eternal clog [struck: to you], so long as they are connected with you -
General Putnam is here & will fully write you on the subject of your letter to him - he is going to the Ohio this Winter, & in the Spring is determined to remove there with his whole family - Harry I assure you I am sick of the noise [5] and world, (and unless you can give me some good reasons to the contrary) I some times think I shall become an inhabitant of that distant Country - I have purchased two shares with that intent, and your advice & opinion after knowing every circumstance will most certainly govern me, for this reason I wish'd very much to have seen you this fall - and if you are prevented coming here as you have proposed, I will certainly see you in New York this Winter -
With respect to your notes I have not moved one step in the business without the advice and opinion of our friend S Breck - and accordingly last Friday by his advice I sold [6] two of your Soldiers Notes (so called) at 5/ on the pound the face of each Note was £301..0 - [struck: which] the two £602.0 - they [nea ?]ted me £150.10 which from you may immediately draw for, it will be more convenient for [struck: you] [inserted: me] to draw at a few days sight - I have another note of the same amount & some description which I was [applied?] too for yesterday but they would not give me more that 4/10. but I would not dispose of it - The Consolidated Notes (so called) I was offered 3/6 for a £1,000. & they woud allow me the interest that was due on them which is about 8 mo but that offer I declined - flattering my self I shall be able to do better, as I have had many applications to purchase since I first offered [7] them for sale -
On Wednesday last the Question was debated in the House whether they would concur with the Senate to call a Convention agreeably to the Recommendation of Congress, after two hours debate the Question was call'd & the numbers were Yeas 129
Nays 32 - both houses have accordly agreed on the 2d Wednesday in Jany: next, for the Meeting of the Convention in the State house in Boston - for the debate I refer you to yesterday paper, which is inclosed - if you can form the least judgment from the present disposition of the people there is not the least doubt but the New Constitution will be accepted in the State by a very large [8] Majority of the People -
Mr. Gorham & Mr. King are exceedingly pleased with the reception it has met with here - if it should be approved of by the States will there be a Military established - If so, I hope you will think of me - as that is the only situation in which I shall ever be happy -
Your friends of the Club send their love to you & Lucy - Mrs & Mr. Swan in a particular manner - & if you & your daughter Lucy come this way they expect you to keep with them, or they will be greatly disappointed,
My love to Lucy, & your dear family - dont let be forgot by Harry -
Your truely & ever
affectionate
H Jackson
[docket]
H Jackson Esqr. 28 Octr
1787-See More
People: Jackson, Henry, 1747-1809
Knox, Henry, 1750-1806

Historical Era: The New Nation, 1783-1815
Subjects: US ConstitutionLand TransactionRevolutionary War GeneralFinanceWestward ExpansionFrontiers and ExplorationGovernment and CivicsRatificationMilitary HistoryStanding ArmyOffice Seeker
Sub Era: Creating a New Government