Peirce, John (fl. 1784-1787) to Henry Knox
High-resolution images are available to schools and libraries via subscription to American History, 1493-1943. Check to see if your school or library already has a subscription. Or click here for more information. You may also order a pdf of the image from us here.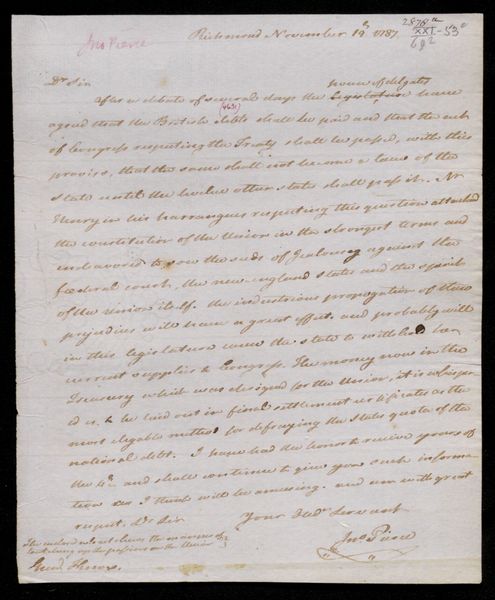 A high-resolution version of this object is available for registered users. LOG IN
Gilder Lehrman Collection #: GLC02437.03707 Author/Creator: Peirce, John (fl. 1784-1787) Place Written: Richmond, Virginia Type: Autograph letter signed Date: 19 November 1787 Pagination: 1 p. ; 22.4 x 18.5 cm.
Summary of Content: Discusses the delegates' agreement to pay British debts but only if the other states ratify a similar provision. Writes that "Mr. Henry in his harangue respecting this question attacked the constitution of the Union in the strongest terms and endeavored to sow the seeds of jealousy against the federal courts, the new england states and the spirit of the union itself." Discusses concern for federal defrayment of state debt.
Full Transcript: [draft]
Richmond November 19.th 1787.
Dr Sir
After a debate of several days the [struck: legislature] [inserted: house of delegates] have agreed that the British debts shall be paid and that ...the act of Congress requesting the Treaty shall be passed, with this proviso, that the same shall not become a law of the state until the twelve other states shall pass it. Mr Henry in his harrangues respecting this question attacked the constitution of the Union in the strongest terms and endeavored to sow the seeds of jealousy against the federal court, the new england states and the spirit of the Union itself. The industrious propogation [sic] of these prejudices will have a great effect. and probably will in this legislature cause the state to withhold her current supplies to Congress. The money now in the Treasury which was designed for the Union, it is whispered is to be laid out in final settlement certificates as the most [eligable] [sic] method for defraying the States quota of the national debt. I have had the honor to receive yours of the 4th and shall continue to give you such information as I think will be assuring. And even with great respect, Dr Sir
Your Obdnt Servant
Jn.o Peirce
The enclosed contract shews the [illegible] of
[illegible] up the passions on the Union
Genl HKnox.See More
People: Knox, Henry, 1750-1806
Peirce, John, 1750-1798
Henry, Patrick, 1736-1799

Historical Era: The New Nation, 1783-1815
Subjects: US ConstitutionRevolutionary War GeneralGovernment and CivicsDebtFinanceGlobal History and US Foreign PolicyGlobal History and US Foreign PolicyRatificationJudiciaryRevolutionary WarAssumption of State DebtSectionalismPolitics
Sub Era: Creating a New Government