Jamison, David (fl. 1691-1717) to Robert Livingston re: Captain Kidd's trial
High-resolution images are available to schools and libraries via subscription to American History, 1493-1943. Check to see if your school or library already has a subscription. Or click here for more information. You may also order a pdf of the image from us here.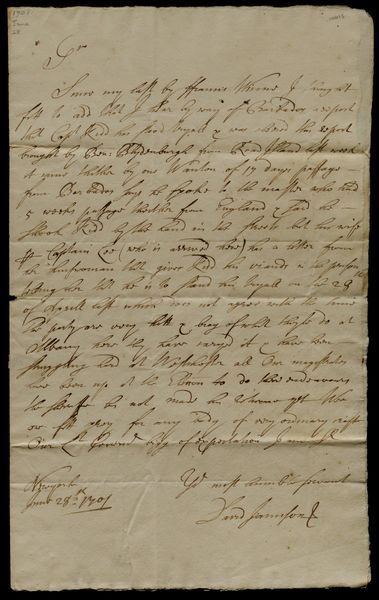 A high-resolution version of this object is available for registered users. LOG IN
Gilder Lehrman Collection #: GLC03107.00615 Author/Creator: Jamison, David (fl. 1691-1717) Place Written: New York, New York Type: Autograph letter signed Date: 1701/06/28 Pagination: 1 p. + addr. 30.6 x 18.8 cm
Summary of Content: Jamison writes with the news that Captain Kidd is standing trial for piracy. According to Jamison's two sources, Kidd was tried on one of two dates, April 28th or earlier. Docketed on address leaf.
Full Transcript: Sr

[Since] my last by [Harris Winno] I thought fitt to add that I hear by way of barbados a report that Capt Kidd has stood tryal & was [illegible] this ...report brought by Ben. Blydenburgh from Road Island last week it [now] thither by our Wanton of 17 days passages - from Barbados says he spoke to the master who had 5 weeks passages thither from England & said he - shook Kidd by the hand in the flessh but his wife & Captain [Loo] (who is arrived here) has a letter from her kinswoman that gives Kidd his viands in the person teling her that he is to stand tryall on the 28th of August last which does not agree with the time. The party are very hott & [brag] of what [thought] do at Albany how they have varyd it & have been - struggling hard at Westchester all Our magistrates had been up at the [illegible] to do their endeavours tho [illegible] has not made her to know yet [?] we fitt pray for any body of very ordinary rest Our Lt Governr bigg of expectation I am Sr

Newyork Yor most humble Servant
June 28th 1701
David Jamison

[address]
To
Robert Livingson Esq
at Albany

[docket]
rec 1 July 1701
David Jamisons Att
for N York
See More
People:
Historical Era: Colonization and Settlement, 1585-1763
Subjects: PrivateeringPiratesLawMaritime
Sub Era: