Washington, George (1732-1799) to [Benjamin Tallmadge] re: spy report, setting meeting
High-resolution images are available to schools and libraries via subscription to American History, 1493-1943. Check to see if your school or library already has a subscription. Or click here for more information. You may also order a pdf of the image from us here.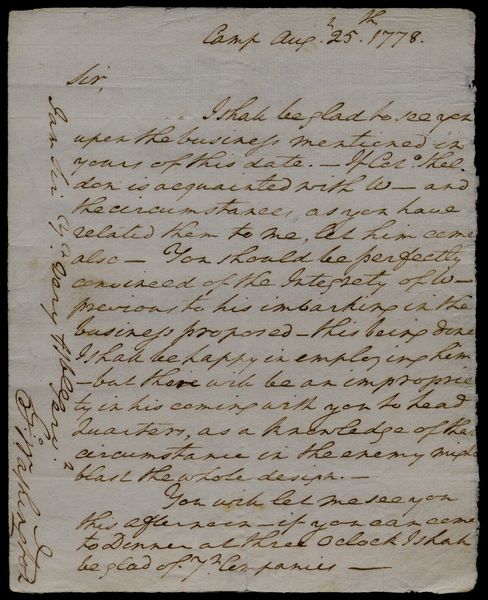 A high-resolution version of this object is available for registered users. LOG IN
Gilder Lehrman Collection #: GLC07277 Author/Creator: Washington, George (1732-1799) Place Written: Camp Type: Autograph letter signed Date: 1778/08/25 Pagination: 1 p. 21.1 x 16.9 cm
Washington wants to discuss a spy report concerning British troop movements in New York: "Knowledge of that circumstance in the enemy might blast the whole design"
Signer of the U.S. Constitution.
Camp Augt. 25th . 1778.
Sir,
I shall be glad to see you upon the business mentioned in yours of this date. - If Colo. Sheldon is acquainted with W - and the circumstances as you have related them to me, let him come also - You should be perfectly convinced of the Integrety of W - previous to his imbarking in the business proposed - this being done I shall be happy in employing him - but there will be an impropriety in his coming with you to head Quarters, as a knowledge of that circumstance in the enemy might blast the whole design. -
You will let me see you this afternoon - if you can come to Dinner at three O clock I shall be glad of yr. Companies -
[inserted at margin: I am Sir Yr. Very Hble Servt.
Go: Washington