Sumner, Charles (1811-1874) to Robert Adams
High-resolution images are available to schools and libraries via subscription to American History, 1493-1943. Check to see if your school or library already has a subscription. Or click here for more information. You may also order a pdf of the image from us here.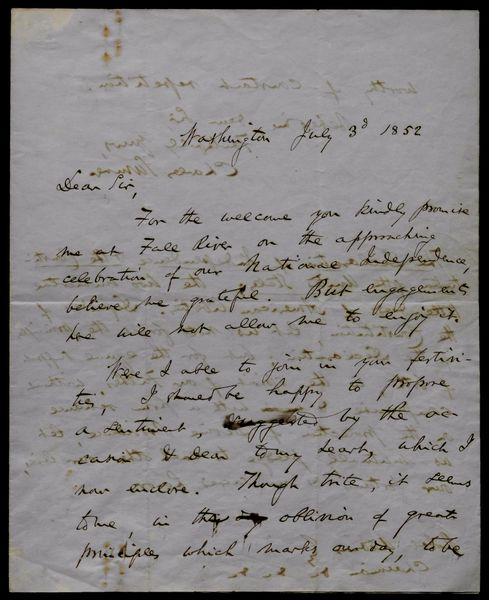 A high-resolution version of this object is available for registered users. LOG IN
Gilder Lehrman Collection #: GLC07356.01 Author/Creator: Sumner, Charles (1811-1874) Place Written: Washington, D.C. Type: Autograph letter signed Date: 3 July 1852 Pagination: 2 p. ; 25 x 20.1 cm.
Summary of Content: Thanks Adams, possibly an underground railroad conductor, for the invitation to Independence Day events at Fall River, Massachusetts, but cannot make it. Sends his sentiments instead which he calls trite but necessary. "Defenders of the Constitution, let us not forget the principles of the Declaration; but for the equal support of both, in the spirit of our fathers, without compromise & with a firm reliance on the protection of Divine Providence, let us mutually pledge to each other our lives, our fortunes & our sacred honor." Addressed to Robert Adams as Chairman.
Background Information:
Full Transcript: [Draft Excerpt:]
Though trite, it seems to me, in the oblivion of great principles which marks our day, to be worthy of constant repetition...The Declaration of Indpendence & the Constitution ...of the United States; the two immortal title-deeds of American liberties. Defenders of the Constitution, let us not forget the principles of the Declaration; but for the equal support of both, in the spirit of our fathers, without compromise & with a firm reliance on the protection of Divine Providence, let us mutually pledge to each other our lives, our fortunes & our sacred honor.See More
People: Sumner, Charles, 1811-1874

Historical Era: National Expansion and Reform, 1815-1860
Subjects: AbolitionUnderground RailroadReform MovementHolidays and CelebrationsFourth of JulySlaveryAfrican American HistoryUS ConstitutionDeclaration of IndependenceReligion
Sub Era: