Videos
Learn more about the Declaration of Independence from such leading historians as David Armitage, James Oliver Horton, Pauline Maier, and Gordon S. Wood. You can watch full lectures (45 minutes to an hour) or short clips that introduce related topics and are particularly suited for classroom use.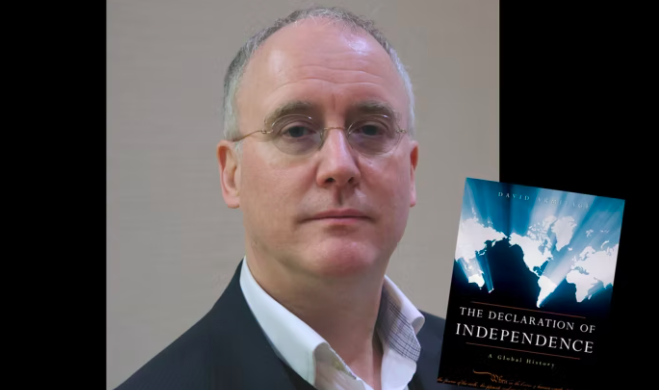 Book Breaks
Gilder Lehrman Book Breaks features the most exciting history scholars in America discussing their books live with a Gilder Lehrman host, followed by a Q&A with home audiences. This hourlong program runs every Sunday at 2 p.m. ET. To access these videos of past programs, subscribe to Book Breaks (free for Affiliate School teachers and their students).
Here are some of our recent programs focused on the Declaration of Independence.
The Words That Made Us: America's Constitutional Conversation: 1760–1840 with Akhil Amar, Yale University
The Declaration of Independence: A Global History with David Armitage, Harvard University 
Give Me Liberty with Richard Brookhiser, National Review
The Cause: The American Revolution and Its Discontents, 1773–1783 with Joseph J. Ellis, Mount Holyoke College
Liberty Is Sweet: The Hidden History of the American Revolution with Woody Holton, University of South Carolina
Patriotism and Profit: Washington, Hamilton, Schuyler & the Rivalry for America's Capital City with Susan Nagel, Independent Scholar
1774: Long Year of Revolution with Mary Beth Norton, Cornell University
American Republics: A Continental History of the United States, 1783–1850 with Alan Taylor, University of Virginia
Thomas Jefferson's Education with Alan Taylor, University of Virginia
American Enlightenments with Caroline Winterer, Stanford University
Short Takes (one to 4 minutes)
Lectures (up to one hour)