Celebrate the Student Essay!
Posted by Kristin Miller on Wednesday, 12/09/2015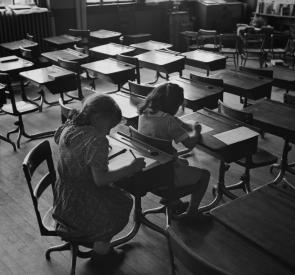 As the best-books-of-the-year lists proliferate, it's time to remind ourselves to nurture young writers. Here at the Gilder Lehrman Institute we have a great way for history teachers to highlight their students' achievements. It's the time-honored tradition of the student essay contest. (FYI: Your school needs to be a Gilder Lehrman Affiliate School to participate. Find out how easy it is to join.)
The youngest group, students in grades 2–5, are asked to help the first President of the United States choose his priorities for the new country. The Dear George Washington Contest calls for a letter (250–300 words) to President Washington. Entries are due on March 28, 2016.
Middle and high schoolers are invited to turn their attention to The Civil War. This contest, jointly administered by the Civil War Round Table of New York, encourages students to make use of a wide range of primary sources, including letters, speeches, songs, photographs, newspapers, military orders, and other matierals along with secondary research. Recent winning entries included "Uncle Tom's Failure," "Dethroning King Cotton: The Failed Diplomacy of the Confederacy," and "An End to the Era of Compromise: Amending the Constitution in Civil War." Entries are due February 1, 2016.
The Age of Revolution Essay Contest encourages high school students to examine the transformations in social and political ideas and movements from the late 1600s to the early 1800s. Students will develop an original essay based on a primary source document in the Sid Lapidus '59 Collection on Liberty and the American Revolution at Princeton University. Entries are due April 11, 2016.