Stanton, Edwin McMasters (1814-1869) General orders no. 66
High-resolution images are available to schools and libraries via subscription to American History, 1493-1943. Check to see if your school or library already has a subscription. Or click here for more information. You may also order a pdf of the image from us here.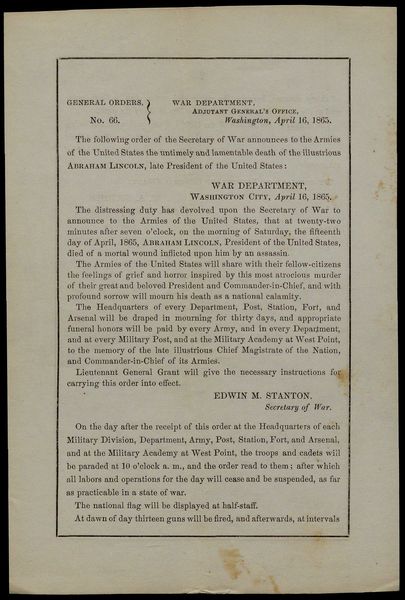 A high-resolution version of this object is available for registered users. LOG IN
Gilder Lehrman Collection #: GLC02031 Author/Creator: Stanton, Edwin McMasters (1814-1869) Place Written: Washington, D.C. Type: Broadside Date: 16 April 1865 Pagination: 2 p. ; 19 x 13 cm.
Secretary of War Stanton announces the death of President Lincoln to the armies. States that "headquarters of every department, post, station, fort, and arsenal will be draped in mourning for thirty days." Also, funeral honors will take place at every military post and at West Point. W.A. Nichols announces that troops and cadets of West Point and all military posts will be paraded at 10 o'clock a.m. Also commands that flags be displayed at half-staff, thirteen guns be fired at dawn, and that officers of the armies of the U.S. wear a badge of mourning. Officers' command and regiment colors will be put in mourning for six months.
Edwin M. Stanton was Secretary of War from 1862-1868 under Abraham Lincoln. After Lincoln's assassination, he continued his position under President Andrew Johnson. Impeachment charges were brought against President Johnson for his dismissal of Stanton. When the charges failed, Stanton resigned. He was then appointed associate justice but died before taking his seat in the Supreme Court.
Nichols served as Assistant Adjutant General.