Wadsworth, Jeremiah (1743-1804) to Henry Knox
High-resolution images are available to schools and libraries via subscription to American History, 1493-1943. Check to see if your school or library already has a subscription. Or click here for more information. You may also order a pdf of the image from us here.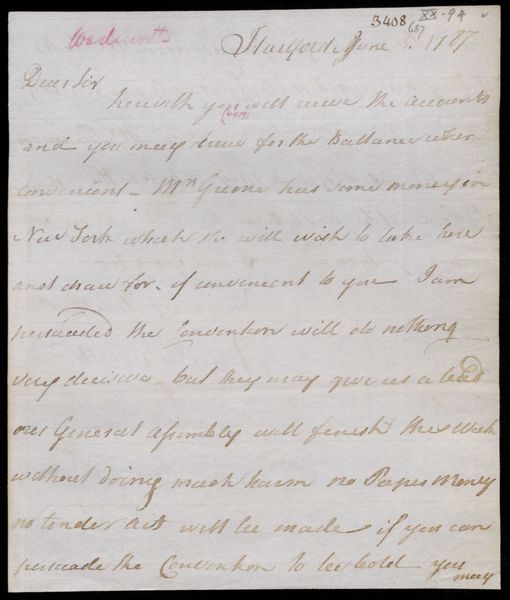 A high-resolution version of this object is available for registered users. LOG IN
Gilder Lehrman Collection #: GLC02437.03565 Author/Creator: Wadsworth, Jeremiah (1743-1804) Place Written: Hartford, Connecticut Type: Autograph letter signed Date: 3 June 1787 Pagination: 2 p. ; 22.4 x 18.8 cm.
Summary of Content: Discusses a financial matter related to Mrs. [Catharine] Greene. Comments extensively on the Constitutional Convention: "I am persuaded the Convention will do nothing very decisive but they may give us a lead our General Assembly will finish this week without doing much harm no Paper Money no tender act will be made if you can persuade the Convention to be bold you may hope for a change of measures in the States if they are turned or divided- all our hopes of a good Government are over - Mr. [Roger] Sherman I am told is disposed only to patch the old System- if he is stuborn [sic] he will influence too many others."
Full Transcript: Hartford June 3 1787
Dear Sir
here with you will receive the accounts and you may draw for the Ballance when convenient - Mrs Greene has some money in New York which ...she will wish to take here and [draw] for if convenient to you - I am persuaded the Convention will do nothing very decisive but they may give us a lead our General Assembly will finish this week without doing much harm no Paper Money no tender Act will be made if you can persuade the Convention to be bold you may [2] hope for a change of measures in the States if they are turned or divided - all our hopes of a good Government are over - Mr. Sherman I am told is disposed only to patch the old System - if he is stuborn he will influence too many others -
I am dear sir
Your very Hum Servt
Jere Wadsworth



Gen. KnoxSee More
People: Knox, Henry, 1750-1806
Wadsworth, Jeremiah, 1743-1804
Greene, Catharine Littlefield, 1755-1814

Historical Era: The New Nation, 1783-1815
Subjects: US ConstitutionWomen's HistoryFinanceWartime Pillaging and DestructionUS Constitutional ConventionGovernment and CivicsCoins and CurrencyEconomicsLawRebellion
Sub Era: Creating a New Government